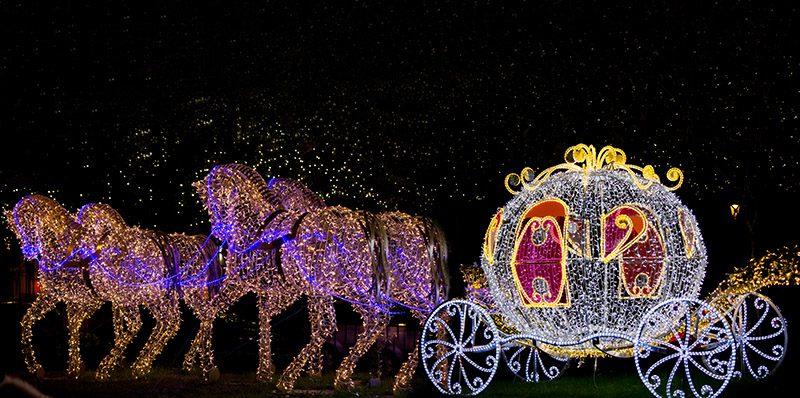 We live in a world of stunning visual experiences—from CGI in movie theaters to augmented and virtual reality, you can enjoy in your living room, to the technology behind today's breathtaking, eye-popping, gravity-defying theme parks.
So why, in such a world, do American retailers still celebrate Christmas as if all we had available were extension cords and light strings? Strolling through an American mall or department store at Christmas, it's easy to see why you might have trouble getting those extra white lights you need for that blank spot on your tree. The stores have snapped them all up!
That's not to say that traditional approaches to Christmas décor are a thing of the past. At Christmas Designers, we're exceptionally proud of everything we've done, and continue to do, in the realm of garlands, silhouette displays, commercial Christmas trees, and other tried-and-true formats. But as every Christmas enthusiast knows, the season isn't only about nostalgia. We celebrate Christmas because it's an important part of today!

Create a Contemporary Christmas Atmosphere.
In Europe—where they've been decorating for Christmas a lot longer than we have in the U.S.—public displays have moved beyond simple decorations to complete transformations of familiar spaces. Multi-dimensional lighting displays don't just give a nod to Christmas; they draw passersby into a complete, often interactive experience that enhances their enjoyment of a season they already love.
Three-dimensional construction, beautiful design, and imaginative engineering come together to add a whole new layer of wonder to the celebration of Christmas.
At Christmas Designers, we've been developing an entirely new line of 21st Century Commercial Christmas decorations that rivals anything our European counterparts have on the market. And we're offering it at uniquely affordable prices.
Walk-Throughs: These 9, 10, even 16-foot glimmering architectural pieces quite literally take you inside an unforgettable Christmas moment.
3D Innovations: Big, bold, renderings of traditional Christmas icons bring eye-catching contemporary energy to familiar imagery that might otherwise be taken for granted.
2D Delights: Imaginative and lighthearted approaches to some tried-and-true decorative motifs ensure that the simple fun of Christmas isn't forgotten.
Our design and production teams are experts in setting a variety of captivating holiday moods: joyous, whimsical, ethereal, mesmerizing, and more. And our quality control group sees to it that our products will make your Christmas bright for years to come.

Collaborate with Experienced Professionals.
Christmas Designers isn't just a manufacturer of fabulous Commercial Christmas displays. Our decades of experience have given us a lot of insight into best practices when comes to helping customers develop and achieve a vision for the Christmas season.
If you're interested in exploring the possibility of using our dimensional products, but aren't sure about what to select, please contact us.  We'll be happy to discuss your space and recommend which products we feel will accomplish your decorative goals.
Whether you need to increase traffic in a specific area of a shopping center, call out the unique product available in a given department, or simply create a space where customers can enjoy some Christmas magic, let our team help you make it happen.