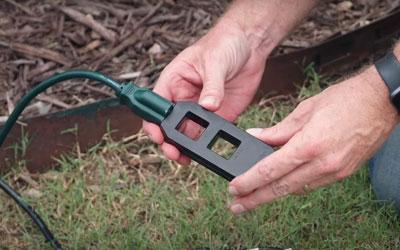 When the holiday season rolls around, most homeowners see an inevitable bump in their electric bill. After all, powering all those LED Christmas lights, net lights, C7 and C9 bulbs, and mini lights throughout your home and yard requires significant electricity. Christmas is already expensive, which is why it's smart to use a line splitter for Christmas lights this year. This simple device can help you calculate the electric draw from your Christmas lights and other Christmas decorations so you can keep a closer eye on your electric costs.
In this blog, we provide a brief guide on line splitters and how they can help you better manage your light sets and Christmas light bulbs to identify overdraw and see how much energy your Christmas display is consuming. By knowing this information, you'll be able to design a Christmas display that doesn't overload any of your outlets, keeping your holidays safe and affordable. We offer a range of electrical supplies, hardware, and accessories to help you create an amazing and eye-catching holiday display.
What is a Line Splitter?
One of the most valuable tools for serious Christmas lights enthusiasts as well as professional installers is a clamp meter. A clamp meter allows you to determine how many amps you have running through the electrical circuit. While this can be useful, oftentimes you will want to isolate your amp drawdown to a single cord.
Clamp meters are designed to work directly at a breaker panel, but with the addition of a line splitter, you'll be able to take amp readings at the outlet, which in turn gives you a great tool to use to prevent overloaded lines. A line splitter separates hot from neutral and ground wires on your standard 120-volt outlets. This allows current measurements to be made with a current clamp. If you don't have a line splitter, the current clamp will measure currents in both directions, which essentially cancels out the entire measurement. A line splitter has a standard measurement and multiplier section for use with less accurate or even higher-ranged clamp meters.
Where Can I Buy A Line Splitter For Christmas Lights?
Line splitters can be purchased at most electrical supply stores and hardware stores. But generally, Christmas installers prefer to make their own Christmas light splitters. They not only hold up better but by using a 3-way extension cord, you'll be able to have a line splitter that allows you to measure multiple cords at one time.
Can I Make My Own Line Splitter?
With some supplies and a little technical experience, you can easily make a DIY line splitter for Christmas lights.
To make your own line splitter, you'll need the following tools:
Two or three-foot 3-way extension adapter.
Wire cutters.
A utility knife.
It only takes a few minutes to make, and the end result is a line splitter that works better and is more versatile than a store-bought model. Not only will this save you money, but these line splitters tend to be of better quality. With your own line splitter, there's no better way to regulate your commercial Christmas lights and make the season even brighter.
You can see the storebought and the DIY Line Splitter in our YouTube video where we demonstrate amperage reading.
Become A Christmas Lighting Expert With A Line Splitter For Your Electrical Decorations
The lighting experts at Christmas Designers are here to help you create the best holiday display yet this year. We also have the tools and accessories to help you get the job done right and calculate electric draw from your Christmas lights and other holiday decorations. Your Christmas tree lights and outdoor Christmas string lights can take up a lot of energy throughout the course of the holidays. A line splitter can help you better manage your electrical components over the holidays.
Contact us online with any questions or to browse our full selection of commercial-grade Christmas lights, Christmas decorations, and electrical supplies and accessories. Don't hesitate to call us at (855) 464 6665 or check out our YouTube channel for more ways to create an unforgettable holiday display.