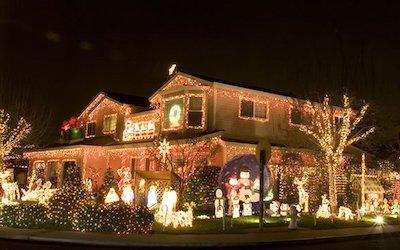 One of the most valuable tools for serious Christmas enthusiasts as well as professional installers is a clamp meter. A clamp meter allows you to determine how many amps you have running through a circuit. While this can be useful, often times you will want to isolate your amp drawdown to a single cord. Clamp meters are designed to work directly at a breaker panel, but with the addition of a line splitter, you'll be able to take amp readings at the outlet, which in turn gives you a great tool to use to prevent overloaded lines.
Line splitters can be purchased at most electrical supply stores. But generally, Christmas installers prefer to make their own. They not only hold up better but by using a 3-way extension cord, you'll be able to have a line splitter that allows you to measure multiple cords at one time.
                                    Using a homemade line splitter
To make your own line splitter, you'll need a two or three-foot 3-way extension adapter, wire cutters, and a utility knife. It only takes a few minutes to make and the end result is a line splitter that works better and is more versatile than a store-bought model. Click on the link below to view the three simple steps to making your own line splitter.