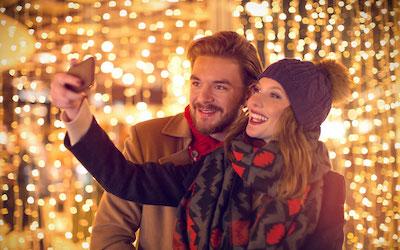 Perhaps one of the most spectacular and awaited times of the year is Christmas and all the days leading up to it. This is when the weather is starting to get a little colder and we are all starting to get into the holiday spirit. It seems like everywhere you look there is some happy reminder of this joyous season. This of course means that it is time for the super important Christmas selfies or to take pictures of how beautiful your city or business has decked their streets and buildings in preparation for the celebrations.
Create a jaw-dropping city or commercial Christmas decorations that you can be proud of and promote on social media. Not only will these great displays cause extra foot traffic but it will eventually lead to more sales to businesses and more revenue for your city.
Just as you prep a window display in a store to attract customers during any other time of year, it is important to prepare your location for those people that are not intending to shop. Some want to go out and spend time browsing what is available in the shops or just seeing the pretty lights. These moments also serve for many as a time to spend with family and enjoy being together.
More often than not many will find that they have to buy something because they happened to be in the mood for shopping. Sometimes it will simply be that they find something they did not expect to find. Christmas is a time that automatically puts you in the mood to give presents and everyone loves receiving them too. This does not always mean monetary gifts but often times it means that you find ways of showing you care about someone else. It is a time created to spread joy and cheer. A good selfie next to a spectacular Christmas tree or a set of reindeer figures will get that cheer flowing and create the mood for so much more such as remembering loved ones or buying something for yourself because you deserve a treat.
Business Christmas Light Display Attracts News & Views
Chick-Fil-A in Phoenix, AZ put up a fun animated Christmas light display and generated buzz from the local news. That news station posted the video on their Facebook page and got over half a million views! That's a powerful way to drive business.
City Light Display Makes the USA Today's Top 10 Holiday Lights List
Branson City, MO creates a magical Christmas light display every year and was rewarded with making the USA Today's 10 Best Holiday Lights List. People come from all around the country to see the Branson City lights, taking selfies, and posting them on social media.
Nothing brings people closer or make them happier than an opportunity to share their happy moments on social media so that all those friends that are not present, can enjoy the beautiful pictures and more importantly comment or like them. If passersby are taking these pictures in front of your store, or better yet, in your store, it means that they are promoting your business in the best way possible, word of mouth. Every marketing major in college as well as seasoned professionals will tell you that the best way to grow a business or get people interested in something is to have one person tell their friends and for their friends to pass that information on to others. This creates a circle of trust around you that is backed by the word of first contact relationships. This will also eventually lead to sales and foot traffic.
Follow these examples of cities and companies around the world hosting Christmas displays and using social media to attract visitors.
https://www.arkansas.com/search?search=trail+of+holiday+light
A good Christmas display is more than worth the effort and cost because it will get people talking and interested. In fact, not creating the perfect spot for great pictures or not participating in a time that many love and enjoy will often result in you missing a great opportunity to get to people you otherwise would not reach.
#magic #Christmas #lights in #London #city! #Christmas-spirit #festiveseason #lightsonRegent #fun #travel #getoutside #BondStreet #display

— Heather Greig (@HMAndersonGreig) November 20, 2016
It is important to make it easy for people to get close to your display, at least with their camera phones. The benefit of social media attention will help you grow and keep your city or business in the spotlight. Be sure to incorporate all elements possible such as music and big eye-catching displays. This is a great time to really dive into the beautiful creations that are available for Christmas. There is something for every style and preference.
If you prefer a display that is more modern or if you like the classic look, either one is fine. Regardless of the style, the more eye-catching it is, the more it will be reacted to on social media and the more people will be talking about you. When possible try to include your own social media links or tags in your display so that people can connect to you when they see the pictures. Don't be afraid to go all out, this is not the time of year to shy away from the sparkling lights.