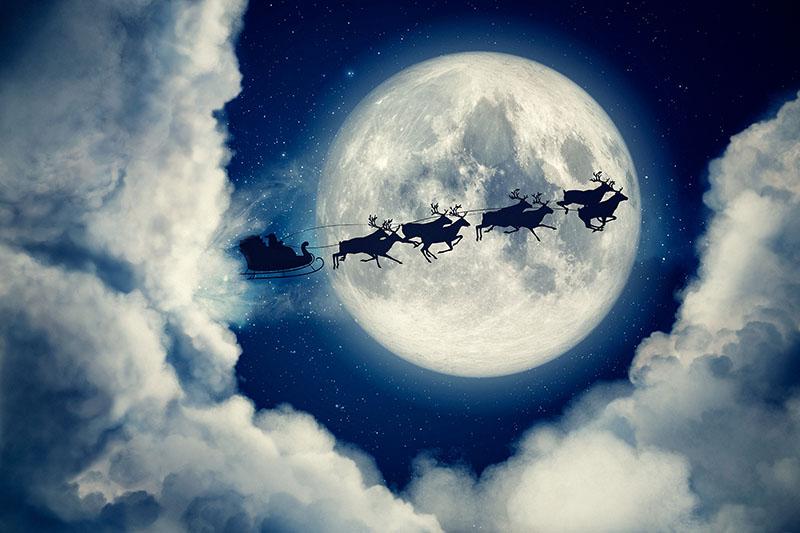 While Col. Harry Shoup sat at his desk at the U.S. Continental Air Defense Command at the height of the Cold War, he was probably hoping not to receive many calls to the red phone sitting ominously in the corner. The number was known only to himself and a four-star general at the Pentagon, a direct hotline put into place to warn of an attack on U.S. soil. Yet one crisp, cool day in December, the phone sprang to life.
Without hesitation, Shoup snatched it and put the receiver to his ear, undoubtedly fearing the worst. Only it wasn't the gruff voice of a senior military officer on the other end of the line. It was a little boy, quietly asking "Is this Santa Claus?"
At first, Shoup thought his solemn duty to his country had become the subject of a prank. But when the kid started bawling, he realized this was no laughing matter. Without missing a beat, he put on his best impression of Kris Kringle for the youngster, "Ho! Ho! Ho!" and all. Then he asked to speak to the boy's mother.
"You haven't seen the papers yet?" she said. "There's a phone number to call Santa. It's in the Sears ad." Shoup looked it up, and lo and behold, there in the middle of a Sears advertisement was the direct line to his ominous red phone, billed as a direct line to Santa Claus himself. It didn't take long for calls from other kids to start flooding in. In response, Shoup put a couple of his men on the phones to masquerade as Santa.
The Continental Air Defense Command — today is known as NORAD — continued to play along, and the game escalated from there. When Christmas Eve came around in 1955, Shoup called up the local radio station to alert them of an "unidentified flying object." "Why it looks like a sleigh!" he said. For the rest of the evening, the radio stations called Shoup nearly every hour, asking for updates on Santa's position.

The Birth of the First Santa Tracking "App"
You can read the Shoup's whole story at NPR's StoryCorps here, as told by his kids. But by their accounts and many others, Shoup had absolutely no idea that one day, his efforts to make a few hundred kids' Christmases a little brighter would turn into the widespread, official Norad Tracks Santa program.
Back in the day, kids and imaginative adults alike would tune in every Christmas Eve to listen as the NORAD apparatus traced Santa's exploits around the globe. Today, the program continues, albeit in a much more high-tech incarnation, with games, GPS updates, and an accompanying mobile app. During the countdown to the big day, NORAD provides users with all kinds of fun activities. Once Christmas Eve finally arrives, you can check the system anytime during the evening to see an exact GPS position of Santa and his sleigh, rendered in "real-time" 3D graphics. You can even watch clips of Santa as he swings by major landmarks and world cities — the perfect tool to make a believer of even the young skeptics in your family. NORAD has even partnered with Amazon to sync up the program to your Echo. Just ask "Alexa, where's Santa?" and she'll give you up-to-the-minute updates.

The Best of the Rest
NORAD is widely considered to be the original when it comes to Santa tracking technology, but it's hardly the only option available. Today, a search on the Google Play store yields dozens of applications purporting to provide the latest and greatest in Kringle-related updates. Unfortunately, pretty much all of these are nothing more than cheaply-made cash grabs made by unscrupulous developers looking to capitalize on your Christmas cheer.
Not so with the Google Santa Tracker. This app/website combo sports colorful new designs and activities for kids every year. With an advent-calendar style set-up, each day unlocks a new game or experience to engage in, with all kinds of educational opportunities that young kids will love. Then, like NORAD, on Christmas Eve they begin broadcasting his journey live, in a cute interface dappled with more games and things to do. Your kiddo can learn to write simple code, learn about holiday traditions from around the world, and even learn a few words from a language spoken in one of Santa's destinations.
Also, worth checking out is Reindeer Cam and its accompanying app, which offers a live stream of Santa's reindeer around the holiday season. While it's not always the most thrilling display you've ever seen (it's a farm, after all), Christmas-obsessed kids will thrill as they watch Santa himself feeding his trusty steeds during one of the scheduled times. The comment feed allows kids to post a message directly to Kris Kringle, and parents can submit their names to have them show up on the site's ticker. Occasionally, "Santa" will even read a heartwarming viewer-submitted story on air!
It may seem like slim pickings for Santa tracking tech, considering all the advances we've made in recent years, but hey — Santa defies science, so what do you expect? Just make sure that whatever Santa tracking app you use, you don't stay up too late staring at it. You wouldn't want him to miss your house!