PRO Christmas™ LED Christmas Lights
Pro Christmas™ LED Christmas Lights have been recognized throughout the world as the best Christmas lights on the market. These are definitely not the type of mini lights that you buy at a big box retail store. As the name implies, Pro Christmas™ light sets are designed specifically for professional Christmas light installers. No other light set is trusted more for demanding commercial Christmas applications.
What about for standard residential use? Can Pro Christmas™ lights be used by homeowners for their home lighting and decorating? Of course! The light sets may be designed for commercial Christmas use, but they are ideally suited for everyday home applications. Here's what Good Morning America and The New York Times said about our LED Christmas Lights.
"Christmas Designers' 5 mm Wide Angle Conical LED is our favorite Christmas light set"
- ABC's Good Morning America
"The best outdoor Christmas lights are Christmas Designers' 5mm Wide Angle Conical LED lights. These lights are bright, durable and completely waterproof."
- New York Times', The Sweethome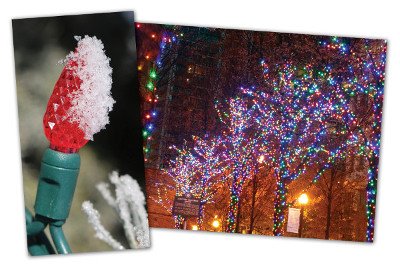 Not Your Standard LED Christmas Lights
An estimated 150 million light sets are sold each year in America, lighting up a total of 80 million homes. Unfortunately, most of these lights will fail after a very short period of time. And even more tragic is the fact that many of these are traditional incandescent mini lights, which use 90% more electricity than the latest generation LED Christmas lights.
Out of the 150 million lights sold every year, the majority of the sets are low-cost retail-grade stringer sets. Not the type of light set you'll find being used in quality holiday displays. Definitely not the type of product you'd find being used by professional installers or dedicated Christmas Enthusiasts.
Pro Christmas™ LED Christmas Lights are not sold in retail stores. These sets are designed for pros but are equally suited for casual home use. And no need to be concerned about paying a lot more for a better quality Christmas light. Pro Christmas™ stringer sets cost about 10% more than their low-quality retail grade counterparts, but they'll last 3 times as long. In the end, you'll save a lot of money and have a light set that is designed for even the harshest winter conditions.
In 1900, a string of 16 vaguely flame-shaped bulbs sitting in brass sockets the size of shot glasses sold for a pricey $12 (about $350 in today's money).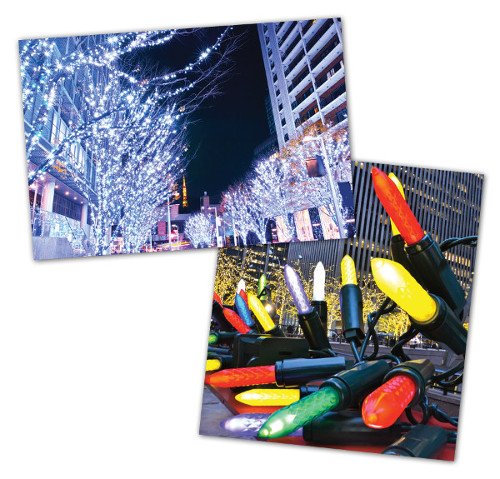 Pro Christmas™ LED Christmas Lights Key Features
1 piece LED bulb/socket design prevents dirt and moisture of entering the lighting system.
High-intensity LED diodes for maximum illumination.
90% less electricity than traditional Christmas lights.
High strength connections prevent wires from pulling out, even in harsh winter conditions.
Colors are 3 times more vivid than traditional Christmas lights.
Robust factory QC testing. Every light set is hand-inspected and tested by a trained Quality Control Specialist.
UL Rated for indoor and outdoor use.
75,000-hour bulb life.
Connect 8 times more sets together than traditional mini light sets.
FREQUENTLY ASKED QUESTIONS ABOUT LED CHRISTMAS LIGHTS
LED Christmas lights have surged in popularity over recent years. Compared to traditional incandescent bulbs, LED Christmas lights have several benefits, such as a longer life, less energy, and a safer design. However, you might be hesitant to transition to LED lights without knowing all the facts.
To keep you informed this holiday season, here are some of the most frequently asked questions (and answers) about LED Christmas lights.
WHAT DOES LED STAND FOR?
LED stands for "light emitting diode," one of the biggest advancements in the lighting industry in the past 140 years. These lights work by passing an electrical current through a microchip, which illuminates the small diodes, producing visible light. Compared to traditional bulbs, LED lights produce light much more efficiently.
ARE LED CHRISTMAS LIGHTS MORE EXPENSIVE THAN INCANDESCENT BULBS?
Upfront, LED Christmas lights may be more expensive than incandescent bulbs; however, they will save you quite a bit of money in the long run. LED Christmas lights last longer and are more durable, meaning they'll be working and shining just as bright season after season. Since LED lights last longer and are more dependable, you'll also save in the long run on maintenance costs and replacing bulbs.
HOW LONG DO LED LIGHTS LAST?
This is a tricky question to answer because the lifespan of your LED lights will depend on a variety of factors. Generally speaking, LED Christmas lights last much longer than other options due to their design and materials. When tested via a controlled, indoor bench test, LED Christmas lights can last 50 times longer than traditional incandescent bulbs and 20 times longer than halogen bulbs. Since LED lights don't have a filament that can burn out, their lifespan is significantly longer.
While LED lights offer advantages over other types of Christmas bulbs, you shouldn't buy into some manufacturer's extreme claims about their longevity. While some claim that a string of LED Christmas lights will last you 20 seasons, this simply isn't true. You can expect a set of high-quality, professional grade LED Christmas lights to last you about 6 or 7 seasons, which is still impressive compared to other models.
Many manufacturers assert that LED Christmas lights have a rated life of up to 75,000 hours. In theory, this is true. The diodes in LED lights can last up to 75,000, but that's not accounting for weather, UV radiation, or the normal wear and tear of hanging up the lights and storing them each year. Additionally, it's not just the diodes that matter. LED Christmas lights are made with additional components--so even if the diodes are still working, this doesn't mean that a different part might malfunction.
Still, despite the grand claims made by some manufacturers, LED Christmas lights are still your best options for lights you can count on for many seasons to come.
ARE LED LIGHTS BRIGHTER?
In the early stages of LED Christmas lights, they couldn't match the luminosity of incandescent bulbs; however, those days are no longer. As technology has advanced, LED lights now have impressive light output and are just as bright, if not brighter, than other types of bulbs. The brightness of LED Christmas lights is also beneficial because you can do more with less, meaning you may not need to buy as many strings of lights as you have in the past.
HOW MUCH DO LED CHRISTMAS LIGHTS SAVE ON ENERGY COSTS?
LED Christmas lights use far less energy than traditional bulbs. According to the Department of Energy, LED lights consume 80 percent less energy, as compared to incandescent lights, and last many times longer. What's not to love?
CAN I REPLACE INDIVIDUAL LED BULBS?
The ability to replace individual LED bulbs depends on the type you buy. We offer pro-grade stringer light sets that do not allow for replacement bulbs (at least not professional, high-quality replacements). We do, however, offer retrofit replacement bulbs (such as C7 and C9 lights) that can be used as replacements with an empty socket light line.
While it's rare for LED bulbs to burn out, the bulbs can occasionally come loose in the socket or malfunction. Two-piece light sets allow you to replace individual bulbs and cost less initially than pro-grade one-piece sets. However, two-piece light sets usually only last 2 to 3 seasons. Although you can't replace individual bulbs on one-piece sets, these strings are higher in quality and will generally last you 6 to 7 years. This is why, even though they may cost more upfront, you'll end up saving money by going with the high-quality one-piece sets.
WHAT VARIETIES DO LED LIGHTS COME IN?
High quality LED Christmas lights come in a wide variety of colors, designs, and configurations. If you can imagine it, there's probably a string of LED lights out there to match your creative holiday display. LED Christmas lights come in various sizes, from the larger C9 bulbs to strings of mini LED lights.
You can also choose between steady, twinkling, or animated LED lights and any color imaginable. RGB lights, such as Twinkly Pro, allow for 17 million different colors, which means your color combinations are practically endless. Whether it's white lights, colored, or a mixture of both, you can find it in LED.
WHAT'S THE DIFFERENCE BETWEEN WARM WHITE AND COOL WHITE LED BULBS?
Believe it or not, but there's quite the variety available when selecting white LED bulbs. Warm white LED lights offer the warm glow and traditional look of incandescent bulbs, cool white casts off the appearance of solid ice, and pure white LED Christmas lights offer a pure white glow. No one option is better than the other--it all comes down to the look you're going for.
Warm white LED Christmas lights -- by swirling in a bit of yellow, warm white LED lights offer a softer glow that's reminiscent of classic incandescent bulbs. Perhaps this is why they're the most popular variation of white LED Christmas lights. Depending on the bulbs, warm white LED Christmas lights range from 2,200 to 3,200 Kelvins. The more Kelvins, the less yellow you'll find in the lights.
Cool white LED Christmas lights -- to capture a cooler, icy look, cool white LED Christmas lights mix in a blue hue. This adds a heavier tint that can turn any landscape into a winter wonderland. These LED lights range from 6,000 to 9,000 Kelvins.
Pure white LED Christmas lights -- for a simpler approach to white LED lights, the pure white lights are just that--pure white without any yellow or blue mixed in. While some feel that these cast off a bit of a harsh glow, others love the consistency and simplicity of the pure white LED lights.
ARE LED LIGHTS DIMMABLE?
They can be. Most models of LED Christmas lights are dimmable and work effectively with a range of animation controllers.
ARE LED LIGHTS SAFE?
Compared to glass incandescent bulbs, LED lights are very safe. Since they're made out of plastic instead of glass, LED light bulbs will never shatter or break—this also makes them much easier to pack and store when the holidays are over. LED lights also run much cooler than glass bulbs, so you don't have to worry about burning your fingers when working with these lights.